New Hollywood hot spot Premiere Supper Club was the place to be Saturday night, with celebs like Usher and Leonardo DiCaprio enjoying the new "theater meets nightlife" themed club.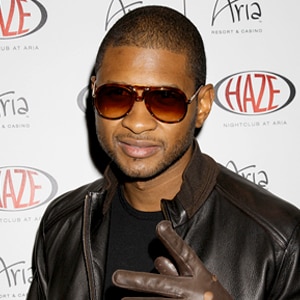 Nothing unusual about that, until we spotted Usher with a certain Oscar winner...
Sitting with the Grammy winner at a VIP table was none other than...Robert De Niro! The unlikely duo spent most of the night chatting and taking in one of the club's performances in which actors reenact scenes from popular movies.
That night's pick?
A scene from De Niro's famous flick Raging Bull. "The real De Niro and Usher were laughing, getting a kick out of the performance," a source told us. Afterward, the two hung out for a while before Usher took off in a black SUV with DiCaprio.
Also out Saturday, Jared Leto, Ke$ha, Mischa Barton, and Anna Faris were all in attendance at Phoenix's private after party at the Hollywood Roosevelt's Tropicana Bar. A few blocks away, Oscar winner Jamie Foxx spent time with friends at Drai's Hollywood on Friday night, dancing and even hopping on the mic to perform several songs for the crowd.
Bachelorette's Ali Fedotowsky celebrated her 26th birthday at the Mondrian Hotel's Skybar in West Hollywood on Saturday with fiancé Roberto Martinez and Bachelor Pad couple Kiptyn Locke and Tenley Molzahn. Fedotowsky and friends toasted with champagne and spent the whole night dancing while downing Stoli vodka drinks.
Earlier on Saturday, How I Met Your Mother star Colbie Smulders shopped with her 14-month-old daughter, Shaelyn, at the Pump Station in Santa Monica.
And speaking of HIMYM, that was drag queen extraordinaire Coco Peru filming an appearance the other day on the hit CBS series. She plays a hooker who propositions a certain star of the show. We won't tell you who, but the episode airs later next month.
Also coming next month, on Oct. 28 to be exact, a 35th anniversary celebration of The Rocky Horror Picture Show at L.A.'s Wiltern Theater. Glee stars Lea Michele and Matthew Morrison, Jack Nicholson, Danny DeVito, Jason Segel and legendary rocker Billy Idol already signed on to make appearances during the live tribute. The night benefits The Painted Turtle, one of Paul Newman's Hole in the Wall camps.Read more: http://uk.eonline.com/uberblog/marc_malkin/b201647_usher_parties_in_hollywood_with_who.html#ixzz10ICouzPI